Head of SPC emphasizes deepening trial procedure reform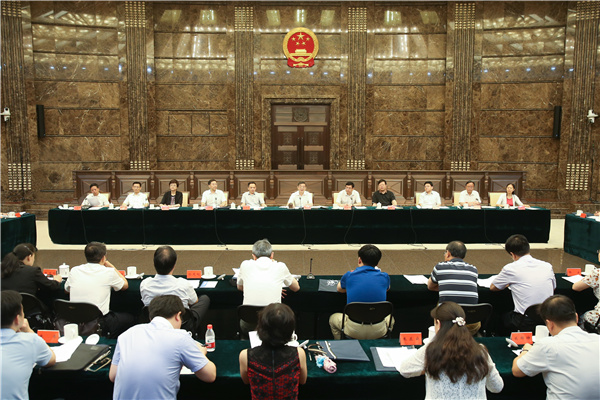 A scene from the conference on reform of family law procedures [Photo by Sun Ruofeng, the People's Courts News and Communication Agency]
The president of the Supreme People's Court emphasized the need to refine court procedures and build support mechanisms in dealing with family law matters on July 19.
Zhou Qiang emphasized that judicial functions should be fully applied to properly resolve marriage and family disputes and preserve harmony and social stability.
Zhou pointed out that courts at all levels in some regions have been instituting pilot projects for procedural reform in family law and good results have been obtained in the area of anti-domestic violence.
With the impact of different ideologies and cultures, China's marriage and family relationships have undergone many changes. The number of family law cases such as divorce, upbringing and inheritance claims is increasing and poses new challenges to courts, according to Zhou.
"People-oriented" should be the principle in court proceedings, and to save unbroken marriages and problem families there should be a shift of attention from property rights to outcomes reflecting personal status and psychological and emotional benefit, Zhou said, added that it is still necessary to protect property rights.
Zhou also said that all grassroots organizations should play a responsible role in family dispute resolution, family status inquiries and interventions, psychological testing and domestic-violence victim protection.
Diversified mechanisms for dispute resolution should be introduced, Zhou said, indicating that professional staff and organizations should take part in family cases to provide psychological counseling.
Wang Shuangquan, vice-minister of justice, also attended the conference. Wang pointed out that marriage and family disputes are the principal subjects of mediation. China's justice and administrative departments will strengthen and constantly improve mediation services for such matters.