Head of China's judiciary body meets with Uzbekistan deputy pm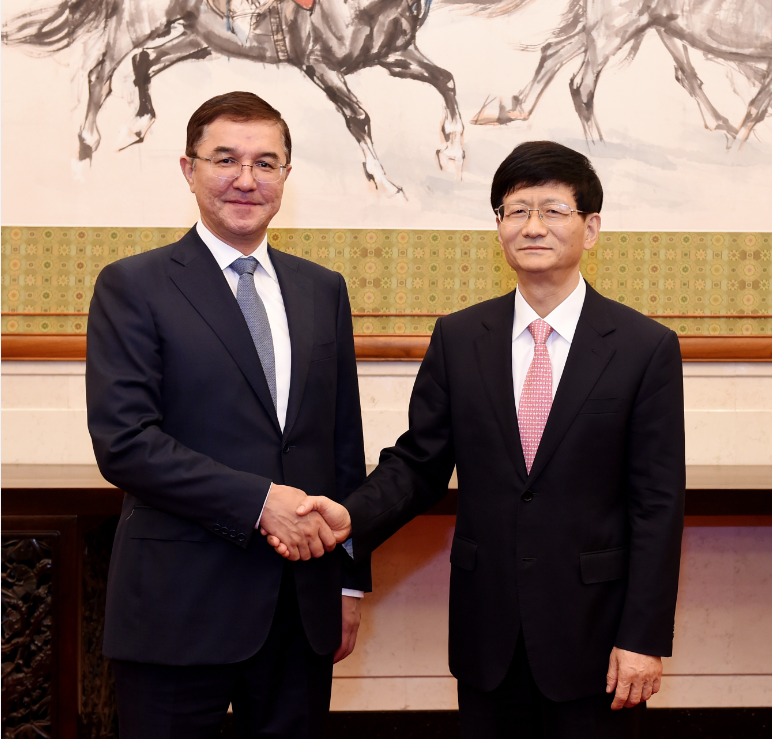 Meng Jianzhu, head of China's Commission for Political and Legal Affairs, meets with Jamshid Kuchkarov, deputy prime minister of Uzbekistan. [Photo by Hao Fan/The People's Courts News and Communication Agency]
Meng Jianzhu, head of China's Commission for Political and Legal Affairs, met with Jamshid Kuchkarov, deputy prime minister of Uzbekistan, on July 19 in Beijing.
Meng said that in May Uzbekistan President Shavkat Mirziyoyev paid a successful visit to China and China's President Xi Jinping held a fruitful meeting with him.
The Chinese side is willing to implement the consensus reached by the leaders of the two countries and synergize the Belt and Road Initiative with the development strategies of Uzbekistan for the creation of new growth points of cooperation, according to Meng.
Security cooperation is an important component in the China-Uzbekistan relationship, said Meng, expressing hopes that the two sides will coordinate their efforts in counter-terrorism, cybersecurity, drug control and the fight against transnational crime.
Meng added that the two sides should improve security through cooperative exchange and boost their joint action capabilities.
Kuchkarov indicated that the Uzbekistan side gives full support to the Belt and Road Initiative and is willing to learn from China's successful experience in economic development and security construction and to deepen cooperation in all fields to advance the Uzbekistan-China relationship.