SPC head prioritizes work in presidential forum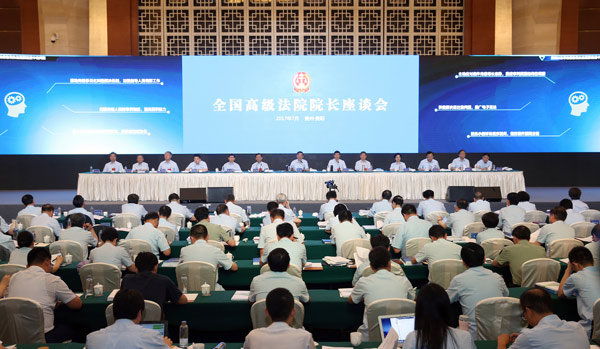 The High People' Court presidential forum in session [Photo by Sun Ruofeng/ The People's Courts News and communication Agency]
The head of the Supreme People's Court prioritized three matters in a High People's Court presidential forum held in Guiyang on July 11.
Zhou Qiang, president of the Supreme People's Court, required High People's Court presidents to focus on judicial system reform, informatization construction and infrastructure construction at the grassroots level.
Courts at all levels work to promote judicial system reform and have already finished eighteen tasks under the Supreme People's Court lead, Zhou said.
Judicial system reform policy should be unswervingly promoted and trial quality and judicial credibility must be improved, said Zhou, pointing out the need to implement new trial operation systems.
Power decentralization must be combined with supervision, and judges' responsibilities must be subdivided among judicial assistants and court clerks and made subject to a hierarchical authority system to ensure that functions are performed at the appropriate level, Zhou said.
Zhou also urged expedition of construction of smart courts and new judicial operation models in which manpower and technology are deeply integrated.