SPC head meets with chief of France's Constitutional Council
The head of China's top court met with a delegation led by Laurent Fabius, chief of the Constitutional Council of France, on July 5 in Beijing.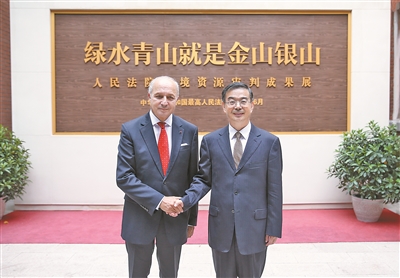 Zhou Qiang (right), president of the Supreme People's Court, meets with chief of the Constitutional Council of France Laurent Fabius in Beijing, July 4. [Photo by Sun Ruofeng/court.gov.cn]
Zhou Qiang, president and chief justice of China's Supreme People's Court (SPC), welcomed Fabius and expressed his appreciation of his contribution in addressing global climate change, promoting ecological environmental protection and global sustainable development.
As China-France relations have developed smoothly, judicial circles of both countries have maintained close exchanges, and communication between their Supreme Courts is deepening, Zhou is confident that Fabius' visit will further advance the two countries' cooperation on environmental justice and promote the continuous development of bilateral ties.
Zhou introduced China's system of environmental law. He said that China attaches great importance to ecological and environmental protection and has made significant achievements in the field.
Chinese courts have played an active role in dealing with proceedings related to environmental and resource disputes, safeguarding national ecological security and the public interest, Zhou noted.
He said the SPC expects to share experience and work with global judicial organs, academic institutions and international organizations to tackle environmental problems and promote global environmental governance through information-oriented channels.
Fabius expressed gratitude for the meeting and spoke highly of China's contribution to global environmental governance. He also lauded China's achievements in the informatization construction of Chinese courts, as well as its improvements in environmental justice and protection.
He said France will cooperate with China in these areas to promote international sustainable development.