SPC head signs MOU with Thailand counterpart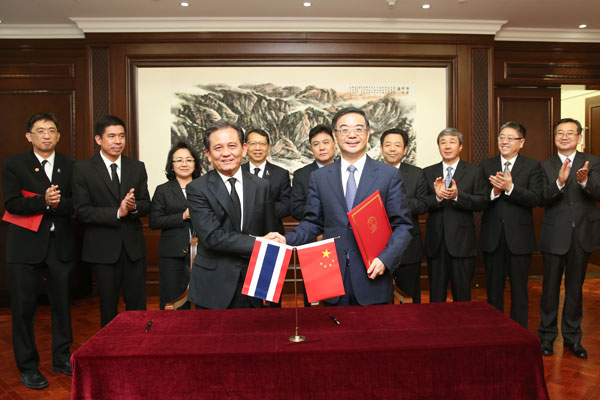 Zhou Qiang, chief justice and president of the Supreme People's Court of China, shakes hands with Veerapol Tungsuwan, honorable chief justice and president of the Supreme Court of Thailand, after signing a memorandum of understanding on judicial exchanges and cooperation on June 12 in Beijing. [Photo by Sun Ruofeng/People's Court Daily]
China and Thailand signed a memorandum of understanding on judicial exchanges and cooperation on June 12 in Beijing.
Zhou Qiang, chief justice and president of the Supreme People's Court (SPC) of China, and Veerapol Tungsuwan, honorable chief justice and president of the Supreme Court of Thailand, attended the signing ceremony.
At his meeting with Veerapol Tungsuwan, Zhou said that courts in China are working hard to deepen reform of the judicial system and to "let people experience justice and fairness in every judicial case".
Zhou said that high-level exchanges and cooperation in various sectors between the two sides have led to good results over the past few years.
"The visit will surely consolidate and promote judicial cooperation between China and Thailand, thus advancing the friendly relationship between the two countries," said Zhou.
Judges are being ordered to take more responsibility at courts in China, said Zhou, adding that the reform of trial mode and law enforcement is underway.
Smart courts construction helps judicial practices to be more transparent and improves judicial effectiveness.
"The quality and efficiency of case handling and judicial credibility keep improving" said Zhou. "People thus have more sense of gain."
Zhou also expressed his hope that frequent high-level exchanges between the two courts can be conducted and the China-ASEAN judge training center and the judicial information center can play greater roles.
Zhou said that cooperation in information exchanges, case studies and judge training should be promoted.
Tungsuwan spoke highly of China's judicial achievements over the past few years and promised to conduct more exchanges and cooperation with the SPC.
He also congratulated Zhou on the success of the 2nd China-ASEAN Justice Forum held on June 8 in Nanning, the capital of the Guangxi Zhuang autonomous region.