SPC head meets speaker of National Assembly of Zambia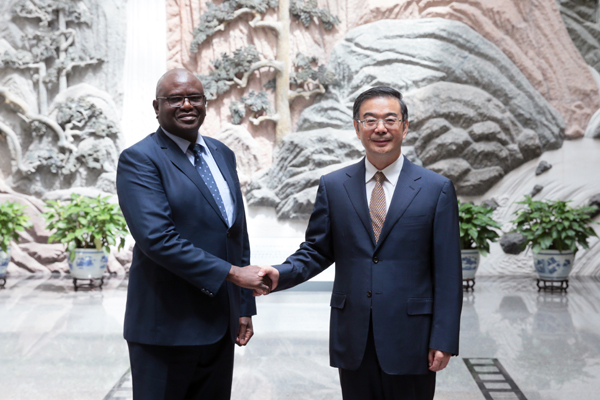 Zhou Qiang, president of the Supreme People's Court, meets with Patrick Matibini, speaker of the National Assembly of Zambia on March 12 in Beijing. [Photo by Sun Ruofeng/ The People's Courts News and Communication Agency]
The head of China's top court met with a delegation led by Patrick Matibini, speaker of the National Assembly of Zambia, on March 12 in Beijing.
Zhou Qiang, president and chief justice of China's Supreme People's Court (SPC) welcomed Matibini, pointing out that Zambia was the first South African country to establish a diplomatic relationship with China, which has led to profound friendship and partnership between the two countries.
In recent years, there have been frequent high-level exchanges between China and Zambia and their top courts have also maintained a sound relationship, said Zhou.
Zhou introduced China's legal construction and judicial reform. He said that Chinese courts are making significant changes to construct a just, efficient and authoritative socialist judicial system.
Chinese courts are very aware of the need for judicial publicity and work to promote openness of trial procedures, judgment documents and executive information, said Zhou, noting that the exercise of judicial power should be open to the public and justice implemented in a visible way.
Chinese courts highly value informatization and are working to expedite construction of smart courts so that all formalities can be handled online, Zhou said.
Zhou added that the courts are also working towards openness of the whole trial procedure and all-round modernization of services to achieve full judicial capacity.
He said that China's SPC is willing to strengthen exchanges and cooperation with Zambia for the promotion of each country's legal construction and the friendship between them.
Matibini expressed gratitude for the meeting saying that the Zambian courts are willing to work with those in China to enhance exchanges and cooperation and further mature their friendship.