Meng Jianzhu meets with senior Mongolian official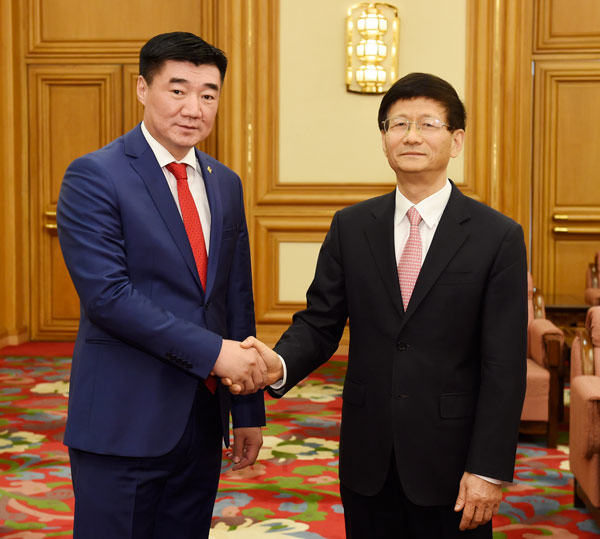 Meng Jianzhu (right), head of the Commission for Political and Legal Affairs of the CPC Central Committee, meets with Byambatsogt, minister of Justice and Internal Affairs of Mongolia, in Beijing on May 8. [Photo by Hao Fan/People's Court Daily]
China's top law enforcement official met with Byambatsogt, minister of Justice and Internal Affairs of Mongolia, in Beijing on May 8.
Meng Jianzhu, head of the Commission for Political and Legal Affairs of the CPC Central Committee, said that communication in economic activity, trade, and law enforcement between the two countries is deepening.
China would like to work with Mongolia to further judicial communication and cooperation regarding cross-border crime so as to jointly prevent and combat drug trafficking, financial crimes, and telecommunication and internet fraud, said Meng.
The entry-and-exit administration will be improved and the security of the border will be strengthened, Meng added.
A comprehensive strategic partnership between the two countries could push Sino-Mongolian cooperation to a new height, according to Meng.
Byambatsogt echoed Meng, saying that Mongolia greatly values the Mongolia-China relationship and traditional friendship.
He said Mongolia is willing to deepen law enforcement cooperation with China and contribute to ongoing friendly ties.