Belt and Road dialogue for security cooperation held in Beijing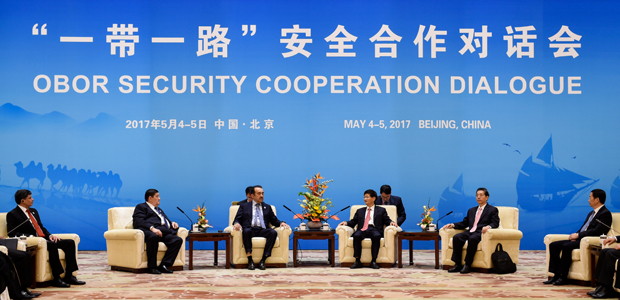 Meng Jianzhu (third from right), head of the Commission for Political and Legal Affairs of the CPC Central Committee, talks with delegation leaders at a security cooperation meeting on May 4 in Beijing. [Photo by Hao Fan/People's Court Daily]
China's top law enforcement official met with delegation leaders to hold conversations on security cooperation on May 4 in Beijing ahead of the upcoming Belt and Road Forum for International Cooperation.
Meng Jianzhu, head of the Commission for Political and Legal Affairs of the CPC Central Committee, said, "Only with a secure and stable environment can the construction of the Belt and Road Initiative achieve a better forward pace."
Meng made the remarks when meeting with the heads of delegations from over 20 countries.
Globally, insecurity factors are on the rise and terrorism is posing a great threat to the security of all human beings, said Meng.
Enhancing international cooperation, jointly tackling the current risks and challenges and safeguarding security along the Belt and Road are tasks facing all relevant countries, according to Meng.
Meng said that all members should take effective measures and make full use of dialogue mechanisms to strengthen information sharing and cooperation in security and law enforcement.