A policeman lightens up people's hearts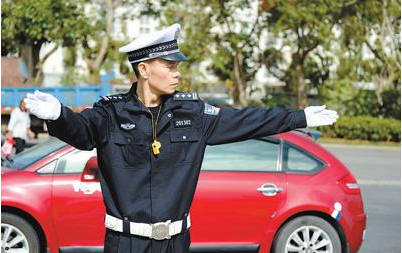 Chen Qingzhou[Photo/China.com.cn]
Chen Qingzhou, a policeman who has nearly 800 thousand followers on Chinese microblog Sina Weibo, has an amiable and resounding nickname: "the lighting up policeman". He now serves as the instructor in Jimei Police Station of Xiamen.
Before 2007, there were no traffic lights, passenger foot-bridges or one-meter guard bars in Guankou town of Jimei District in Xiamen City. Many accidents happened there due to darkness. But now things have totally changed in Guankou Town and lights have been turned on even in its remote villages.
People say that Chen Qingzhou has contributed a great deal to the changes.
From 2007 to 2011, to improve backward rural transportation conditions in area areas under his jurisdiction, Chen Qingzhou began to investigate safety facilities around schools, national highways and country roads, elaborated a list and reported it to cadres at all levels including CPC member sand CPPPCC members.
Through Chen's efforts 18 zebra crossings, 86 traffic signs, 128 deceleration strips and 172 temporary parking spaces were established in the area. Street lamps were also installed in remote mountain villages including Shuangling, Donghui and Tiantou. Accidents are now much less frequent on the area's mountain road Shililanshan.
In April 2011, Chen opened his Weibo account "Policeman Chen Qingzhouz" for legal publicity. He posted reminders and notices about public security, criminal cases and transportation conditions.
Healso got involved in missing people searches on Weibo and his followers gradually grew to 800 thousand. He now tweets 20 posts per day on average and has received 1.33 billion visits. Due to his work on Weibo, more than 300 missing people are back home. His daughter said "For my dad, tweeting posts is more important than eating and sleeping".
"At six o'clock in the morning, I usually post items about child rearing and reminders for mothers who get up early to take care of children. At one o'clock in the morning I always post interactive topics for my night-bird followers so we can chat like friends," Chen Qingzhou said.
To educate the children not to be cheated, 45-year-old Chen Qingzhou has learned to use PPT and video editing systems to create courseware for anti-fraud publicity.
"Chen works in a down-to-earth style. Faced with college students, he knows how to use cyber language. Talking with the general public, he can speak in dialect. When he goes to factories, he communicates with workers in a simplistic language," said Chen Hekun, Chen Qingzhou's colleague, with a tone of admiration.