Top court digital library goes online
The digital library of the Supreme People's Court (SPC) of China was officially launched on Nov 22.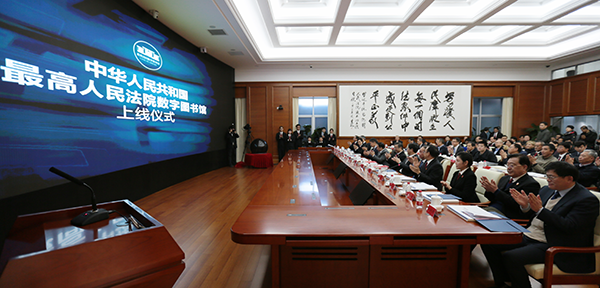 The launching ceremony of the digital library of the Supreme People's Court (SPC) of China is held on Nov 22 in Beijing. [Photo by Sun Ruofeng/People's Court Daily]
Zhou Qiang, chief justice and president of the SPC, addressed the launching ceremony, asking for a world-class e-library big data platform on which China can build the rule of law.
"Court informatization can promote judicial practices, and serve the people and China's socio-economic development," said Zhou.
Setting up the digital library complements big data and the Internet Plus strategy, according to Zhou.
It also puts together traditional libraries with modern methods, noted Zhou.
Zhou required that the innovative development of the library -- with resources of professional documents, a comprehensive database, and special cases -- should be thoroughly implemented.
Wang Shuangquan, deputy secretary general of the Commission for Political and Legal Affairs of the CPC Central Committee, said the new library would help judicial personnel be more efficient and advance construction of China's judicial system through resource sharing, information connectivity, and cultural heritage preservation.
Also attending the launching ceremony was Ren Xianliang, deputy director of the Cyberspace Administration of China, who said that online regulation of the digital library must be maintained.