SPC head meets with Hungarian delegation
The head of China's top tribunal met with a visiting Hungarian delegation on Nov 1 in Beijing.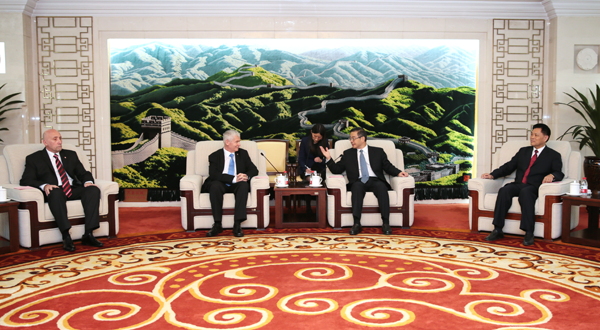 Zhou Qiang (second from right), chief justice and president of the Supreme People's Court of China, talks with Péter Polt, chief prosecutor of Hungary on Nov 1 in Beijing. [Photo by Sun Ruofeng/People's Court Daily]
Zhou Qiang, chief justice and president of the Supreme People's Court (SPC) of China, welcomed a group led by Péter Polt, chief prosecutor of Hungary.
Zhou said that the friendship between China and Hungary has a long history, and economic and trade cooperation and people-to-people exchanges have been improving over the past few years.
The judicial sectors of the two countries are in a good relationship, according to Zhou. He said, "The visit will surely push forward judicial communication and cooperation, and open a new chapter."
Zhou spoke about the legal construction and judicial reform in China, noting that the SPC has come up with 65 concrete reform measures.
He said that as new information systems are put in place, a more dynamic, transparent, and efficient judicial system is emerging.
Broadening technological applications in the judicial system is one such reform. Courts of various levels in China are turning themselves into "Smart Courts" to better serve both the people and judiciary, Zhou said.
Zhou hopes the two sides will play a more positive role in the cooperation in China's Belt and Road Initiative.
China's courts are willing to forge closer ties with the Hungarian judicial sector, and share their experience of reform to benefit Hungary's judiciary, noted Zhou.
Péter Polt echoed Zhou as he expressed the desire for closer cooperation in law -- especially in inspection and the fight against financial crime -- between the two countries.