President of China's top court meets Benin counterpart
Zhou Qiang, chief justice and president of the Supreme People's Court of China, met with visiting Benin Supreme Court President Ousmane Batoko on July 25 in Beijing.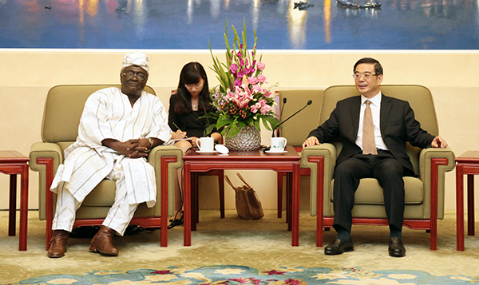 Zhou Qiang (right), president of the Supreme People's Court of China, meets with his Benin counterpart Ousmane Batoko in Beijing on July 25, 2016. [Photo by Sun Ruofeng/People's Court Daily]
Zhou said that the supreme courts of the two countries have a close relationship and that the visit will deepen their cooperation and open a new judicial chapter between them.
Zhou briefed his guest on the legal construction and the running of courts in China.
"Deepening reform in the judicial system is playing an important role in implementing the rule of law here in China," Zhou said, adding that the performance and efficiency of courts have improved and judicial credibility has strengthened.
Broadening IT applications in the judicial work is one such reform. Courts of various levels in China are turning themselves into "Smart Courts" to better serve both the people and judiciary, Zhou noted.
Information construction is "both an opportunity and a challenge" for both countries, said Zhou, calling for broader cooperation between the two countries in lawyer training and case studies.
Ousmane Batoko echoed Zhou as he outlined legal reforms in Benin and expressed his desire for closer cooperation in the law between the two countries.
A memorandum of understanding was signed during Ousmane's visit.