More court cases following free trade zone's expansion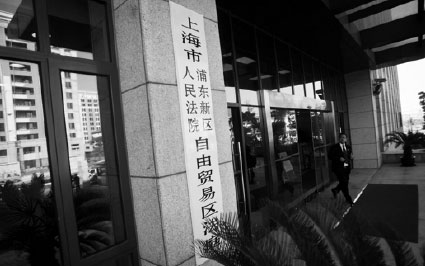 The tribunal of Shanghai Free Trade Zone was founded in 2013 as a judicial safeguard in the FTZ. Yang Shenlai / For China Daily
The expansion of the China (Shanghai) Free Trade Zone has brought growing demand for judicial protection, in which civil and commercial cases involving intellectual property are commonly seen, according to a white paper issued on Oct 28.
The white paper was released by the Shanghai Pudong New Area People's Court, to show the status of judicial service of the court.
Following the establishment of the FTZ in September 2013, the court set up a tribunal in the zone to improve judicial protection.
According to the white paper, from November 2014 to October, the court handled 6,423 cases involving the FTZ, including 4,947 civil and commercial cases, a more than six-fold increase year-on-year.
There were also 308 criminal cases and one administrative case.
"The sharp rise of commercial cases reflects the increasing demand for judicial protection with the expansion of the FTZ," said Zhang Bin, head of the court.
The cases involved different issues and companies, depending on where they were located. For example, in Zhangjiang where many high-tech companies are based, violation of trademark rights, copyrights and other intellectual property disputes made up the majority of cases, according to the white paper.
In Lujiazui, financial cases accounted for more than 80 percent of the total cases and in Jinqiao, the cases were mainly about investment and trade.
As international trade grows in the FTZ, the number of foreign investment and commercial cases has also grown rapidly, the white paper said.
Among them, cases about fund lending and borrowing increased 255.6 percent from November 2014 to October, which means further improvement of related laws and regulations is needed, Zhang said.
The white paper also reported that more disputes occurred in newly established companies. Some finance information service companies appear to lack standards when financing and obtaining money, leading to related disputes.
Six typical cases involving disputes from the zone were publicized on the same day as the white paper was released.
In one of them, a trademark owner authorized trademark rights to a company and an online store with different price policies, which created a conflict of interest between the agents and sellers who had purchased the products from different channels.
The white paper said that the fast developing e-commerce sector is an emerging area that law enforcement authorities should pay increasing attention to, as complaints by online shoppers are on the rise. It called for strengthened administrative supervision in this field.
wanghongyi@chinadaily.com.cn