Meng Xianlai, born to be a judge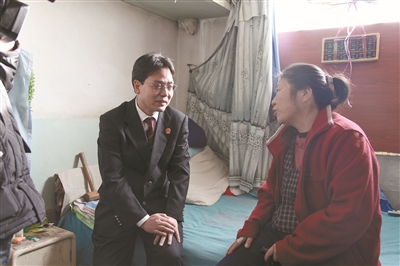 Meng Xianlai (left), former vice president of Yinchuan Xingqing district people's court, visits a litigant.
"He was born for the court. For more than half a year, he just worked overtime," said Lu Hong, wife of Meng Xianlai, former vice-president of Yinchuan Xingqing district people's court.
Meng once promised his wife to watch a movie together, but he had to cancel it because he needed to receive litigants. His apology to his wife later turned out to be his last one. At 23:08 pm, on March 14, 2014, Meng died from leukemia at 49, leaving his parents in their 70s and his beloved wife of more than 20 years.
"A judge should bear benevolence in mind on the basis of justice" had been Meng's belief since his employment at the court when he was 19 years old.
A case from a few years ago illustrates his commitment to both benevolence and justice. In 2003, several gamblers were going down some stairs to return home at midnight, when one of them fell off and died. The family of the dead man believed he was pushed by another who held a grudge against him, and the local procuratorate initiated a public prosecution.
However, the court considered that the balance of evidence was in the accused's favor after the police provided corroborating evidence supporting him. Accordingly, the court found the accused innocent. Not satisfied with the trial, the bereaved appealed to the court to supervise and inspect that outcome, and notified local newspaper reporters.
Meng, who was then president of the supervising court, gave a detailed review of the judicial principals of the case. He also visited the dead man's family four times with the media and finally persuaded them to give up the appeal.
It is a tribute to Meng that since its designation as an "accumulated unfinalized cases court" in 2010, the Xingqing court has accepted 3539 cases, with a finalization rate of 92.82 percent. Meng Xianlai was also named as one of the Top 10 judges in Yinchuan city in 2012.
In early 2013, Meng was diagnosed with serious leukemia. He gave up bone marrow transplants from his elder brother and left hospital to go back to work when he felt better. While being treated in hospital, he answered the phone calls of his colleagues. "Do not care about where I am. Just get your trial work done well; that's the best consolation for me," he told his colleagues.
Wang Yong, vice captain of the court's bailiff force, said, "He lent me 20,000 yuan when he knew I lacked money for house renovation. I gave him back the money when he was in hospital, but he said, 'You don't need to pay the money back immediately, just use it.'" Wang couldn't hide his sadness in uttering those words.
In the eyes of Meng's wife, his litigants and colleagues, in a sense, suffer from the loss of Meng even more than she does. "Do a good trial job and realize his wishes — this is the best way of honoring him," said Li Shuping, a presiding judge of Xingqing court.