Judicial explanation on private lending released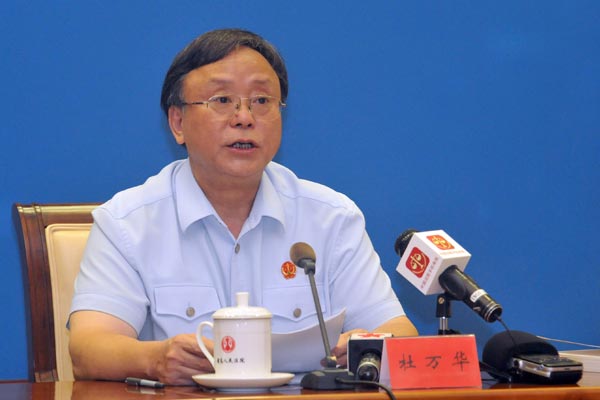 Du Wanhua, member of the Supreme People's Court judicial committee, at a press conference on Aug 6.
As problems such as lack of knowledge, improper organization, and uncertainty in the private lending industry gradually appear, the Supreme People's Court has outlined its approach to supporting the public's pursuit of security, equity and justice in this area. 
Du Wanhua, member of the Supreme People's Court judicial committee, released the Provisions on Private Lending Case Trials of the Supreme People's Court at a press conference on Aug 6.
With the deepening reform of China's economic system in the midst of the country's economic development, solving financing problems of micro, small and medium-sized enterprises is a significant task. As a reasonable supplement to normal financing, private lending has enlarged in scale in recent years due to its simplified procedures and readily available loans, resulting in a sharp rise of debtor-creditor disputes.
Last year, courts in China heard 1.02 million private lending cases, an increase of 19.89 percent over the previous year; while in the first half of this year, 526,000 cases have been closed, a further increase of 26.1 percent, according to Du.
With the amount of litigation soaring every year, debtor-creditor disputes have become the second most common type of civil action, after family law cases, Du said.
The Provisions contains 33 articles, focusing on the definition scope of private lending, the weight of precedence of cases, contract validity, responsibilities of debtors and creditors when loans are arranged through the Internet, as well as the interest rates of private lending.
Du answered questions of reporters from CCTV, the People's Court Daily and other media outlets. The press conference was hosted by Wang Ling, deputy director of the news group office of the Supreme People's Court.